The ferro alloy sector seeks hike in customs duty on entire range of ferro alloys to 10%, except retaining customs duty on ferro nickel at 5%, which is fully imported.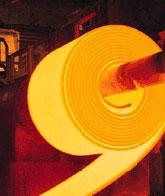 Indian ferro alloy sector has a capacity of 3.64 million tonnes. This is sufficient to take to produce more than 150 million tonnes of steel.
As against this, the Indian finished steel production was only 59.02 million tonne, though there are plans to scale the steel capacity to 124.06 million tonne by 2011-12 and to about 293 million tonne by 2020. So, the ferro alloy industry is suffering gross under utilization of capacity, and may remain so in the short to medium term.
India's ferro alloy producers include Nav Bharat Ventures, Ferro alloys corporation, Balasore alloys, Indian metals & Ferro alloys, Sri Vasavi Industries, Tata Steel (ferro alloys & mineral division), Shyam ferro alloys, Sarda Energy & Minerals, S.A.L. Steel, Jindal Stainless, Rohit Ferro tech. Visa Steel, etc.
Industry expectations
The industry is expecting an increase in the customs duty on ferro alloys under heading 7202 to 10% except for ferro nickel.
The present duty on ferro alloys is 5%. However, this is not sufficient, as the import of ferro alloys is increasing every year, when the domestic Industry is working at around 65 % capacity leaving balance 35 % lying idle. Furthermore the power tariff is 3 to 5 times higher as compared to the power tariff available in other ferro alloy producing countries.
These costs disadvantage encourages other countries to export ferro alloys into India at very low prices. Therefore, the industry expects the basic customs duty on ferro alloys be increased to 10% (except ferro nickel which is 100 % imported).
The raw material for production of ferro vanadium is scarcely available in the country. Also, recently raw material availability from domestic suppliers such as Hindalco and Balco has significantly reduced.
To meet the rising demand of steel industry, the ferro vanadium producers have capacity but need to import its raw material.
But the current inverse import duty structure on ferro vanadium and its raw material (vanadium pentoxide) prohibits the industry from importing. The present duty structure is depicted here under:
Product chapter heading duty rate

Ferro vanadium (finished goods)

7,202 92 5%

Vanadium pentoxide (raw material)

2,825 30 7.5%

Vanadium sludge / ammonium metavanadate (raw material)

2,841.90 7.5%
From the above Table above it can be observed that the raw material is attracting higher duty by 2.5%.
Furthermore the domestic producers have also to pay 1 % to 2 % CST on their finished goods which is not applicable on imported materials.
To protect the domestic ferro vanadium producers from closing down their operations for want of raw material, the Industry wants the inverse duty structure needs to be corrected.
It is recommended that the customs duty on vanadium pentoxide (chapter heading 2825 30) and vanadium sludge / ammonium metavanadate (chapter heading 2841.90) should be reduced to nil from the present level of 7.5%
The industry expects the customs duty on the ores viz., manganese ore, chrome ore, molybdenum ore/moly oxide, tungsten ore, wolframite ore, scheelite ore, nickel oxide, vanadium ore, etc., falling under chapter 26, are basic raw materials and should be brought down to zero (0%)as these are not available in the country except the first two.
Here also, the only high grade manganese ore and chrome ore deposits available in India are with Manganese Ore (India) MOIL) and Orissa Mining Corporation (OMC), respectively, who act as price monopolists.
The industry has requested to waive the 4% additional customs duty on import of nickel plate under heading 7502 1000.
The industry wants to allow free import of ferro manganese slag under customs tariff heading 2620 1900 under chapter 26 for production of silico manganese, to cater to the domestic steel industry, and continue to meet the export market.
Hence the industry expects ferro manganese slag be listed under customs tariff heading 2620 1900 under policy as free instead of restricted items.
Analysts'/market expectations
No major changes are expected relating to the duty structure of raw materials required for production manufacturing ferro alloys.
Stock to watch
Nav Bharat Ventures
Outlook
If the basic customs duty on ferro alloys is increased to 10 % (except ferro nickel which is 100% imported) it will ease the working condition of the industry at the current critical phase. Overall, the Union Budget 2010-11 is expected to be neutral for the ferro alloy sector.