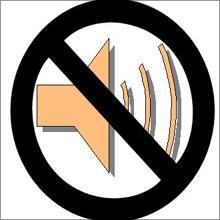 The Ministry of Environment and Forests is setting up a network for national-level monitoring and reporting of noise pollution.
Based on the pattern of existing air and water networks, the setting up of the National Ambient Noise Monitoring Network and development of infrastructure for noise mapping in the country are expected to be in place within five years.
The network will be managed by the Central Pollution Control Board, involving the State Pollution Control Boards.
As part of this network, the use of construction machines, musical instruments, bursting of noise-emitting firecrackers and horns beyond permissible limits at nights in residential areas have been made punishable offences, attracting seven years of imprisonment or penalty of Rs 1 lakh.
Moreover, Noise Pollution (Regulation and Control) Rules, 2000, have been amended as part of the government's efforts to make cities less noisy and nights peaceful for residents, in keeping with the Supreme Court directives issued from time to time. According to amendments, new sources of noise, mainly musical instruments, use of construction machinery and fire crackers at nights -- between 10 pm and 6 am -- have been brought under the ambit of noise regulations.
However, keeping in view the public sentiments on religious days, the state governments have been asked to specify in advance the number and particulars of days, not exceeding 15 in a year, on which two-hour exemption (10 pm to 12 midnight) would be given.
"The actual noise levels are 20-25 per cent above permissible limits. For setting up the monitoring network, a roadmap has been prepared, which would facilitate systematic national-level noise monitoring network in a time-bound manner," Environment and Forests Minister Jairam Ramesh said on Thursday.
The network will result in creation of baseline data and facilitate its analysis for policy makers and implementing agencies to take appropriate actions for noise control at regional and national level.
"To facilitate this, ten noise-monitoring stations, each on a pilot basis -- in Delhi, Kolkata, Mumbai, Chennai, Bangalore, Hyderabad and Lucknow -- will be set up by September. The network will be extended to additional 18 cities in 2011, with five stations each. The total project cost would be Rs 10 crore (Rs 100 million)," Ramesh added.