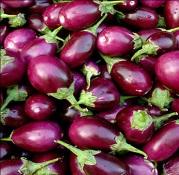 The current testing norms to rule out harmful effects of genetically modified crops like Bt-brinjal from being fool proof, a member of biotech regulator GEAC said.
"The current safety testing norms suggested for Bt-brinjal are insufficient and unscientific. These rules need to be strengthened," Pushpa Bhargava, the scientist who is also the Supreme Court appointee in the Genetic Engineering Approval Committee (GEAC) said at a panel discussion on Bt-brinjal.
Last year, the regulator approved Bt-brinjal, a genetically modified variant of brinjal, for commercial cultivation without following the requisite tests, he said. Genetic component of Bt-brinjals are modified by inserting it with a gene to make the plant pest resistant.
"At present, any GM crop that clears the protocol of six tests as per the GEAC norm, is eligible for approval. Even Bt-brinjal followed the same, though scientists across the world have suggested in their research papers for 30 tests to know any adverse impact of the GM food," Bhargava noted.
He also alleged that most GEAC members have overlooked the warnings of the research papers done in the last 8-9 years on GM crops.