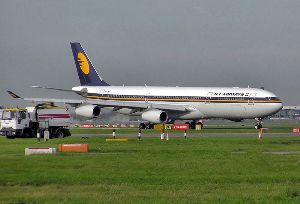 The Indian aviation industry has steered out of rough weather, with three listed private airlines -- SpiceJet, Jet Airways and Kingfisher Airlines -- registering an increase in their passenger revenues.
In the fourth quarter of the last financial year, full-service carriers Jet and Kingfisher registered a growth of 15 and 17 per cent, respectively, while the second-largest low-fare airline, SpiceJet, registered an increase of over 34 per cent in passenger revenues.
The three listed airlines also brought down their losses by over 40 per cent to Rs 2,053 crore (Rs 20.53 billion). While Jet Airways reported an operating profit, Kingfisher Airlines reduced its operating losses by half.
Among the three, Delhi-based SpiceJet, for the first time, made a profit of Rs 61 crore (Rs 610 million) in the last financial year.
Analysts feel the increase in revenues was not the only because of an increase in passenger numbers, but also because of the various schemes floated by the airlines at different intervals.
"The passenger numbers has consistently increased, which has given the airlines scope to experiment with fares and introduce schemes.
The introduction of business class in the low-cost inventory by some airlines is a case in point," said Nikhil Vora, managing director, IDFC-SSKI.
The same has been echoed by the airlines. "With the increase in passenger number, we got the freedom to offer less tickets at lower rates and more on higher rates, hence, bringing us more revenues," said a senior Jet executive, who did not wish to be identified.
Industry sources say the average fares of the industry have also gone up by around 30 per cent and the existing figures show a phenomenal rise.
"Compared to last year, the average fares have firmed up by around 30 per cent. What is interesting is that the fares in May this year are up by around 20 per cent from April, which is unique," said Bhawna Agarwal, founding vice-president, yatra.com, an online travel portal.
Analysts are also projecting a glorious future for the Indian aviation companies.
"This financial year will be the best year for the Indian aviation industry and you will see all the airlines coming out of the red by the end of this fiscal. Kingfisher Airlines will also approach profit in th same period," Vora said.
"Going ahead, the fares will remain upwards during the coming quarters because of several factors, including the common wealth games.
Even during the lean months in this financial year, the average fares will come down only marginally," said Agarwal.
Even though the airlines are looking at expanding internationally, analysts believe that the key to revival is in the domestic market.
"The increase will come from rising domestic passenger numbers as international operations will not be able to contribute much with many countries yet to recover from the slowdown," said Rajeev Batra, executive director, KPMG.