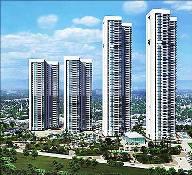 Realty major Lodha Developers plans to build the world's tallest residential tower at a cost of Rs 2,000 crore (Rs 20 billion) in central Mumbai.
The 1,450-feet WorldOne will come up at Upper Worli on a 17-acre plot by 2014. The units would be priced between Rs 7.5-50 crore (Rs 75-500 million) at Rs 25,000 per sq ft.
"The project, pegged at Rs 2,000 crore and to be built on a 17-acre site, will have the world's tallest residential tower," Abhishek Lodha, managing director, Lodha Group said.
"We have strived hard to ensure that this development not only gains from Mumbai's energy but also gives back high quality public spaces to the city," he said.
Lodha said the company has already received booking for a few units during pre-launch, which are priced at over Rs 25,000 per sq ft.
Lodha Developers has tied-up with the New York-based architectural firm Pei Cobb Freed & Partners and structural engineering firm Lera for the project.
Through the partnership with global architects, designers and engineers, the company seeks to bring to Mumbai a landmark, which would "exemplify the spirit of Mumbai--to always soar higher through hard work and passion," Lodha said.
The construction is expected to commence in the next couple of months and the project is scheduled for completion by 2014.
Booking is expected to commence from the end of this month, he said. With a proposed height of over 1,450-feet, WorldOne, would be the tallest residential tower in the world. It would be rated as 'Gold Leed' certified building, Lodha said.
The building would include about 300 exclusive homes, including 3-and-4-bedroom world residences, lavish world villas with their own private pools and a limited number of uber duplex world mansions.
The company has planned to construct three residential towers, a high-end shopping avenue and a world-class office building.
The company plans to fund the project through a combination of customer receipts, internal accruals and debt finance," Lodha said, adding, "if need be, we might also go in for private equity funds."
The construction is expected to be carried out by one of the top civil engineering firms -- those in the fray include Samsung Constructions, L&T and Grocon.
"We have taken special measures to ensure the highest levels of fire safety and have designed the structure to manage the effect of wind and seismic movements," Lodha said. The site would have over 2-lakh sq ft (5 acres) of landscape area for the residents, including a special 80,000 sq ft sports club at a height of 175 feet above ground.