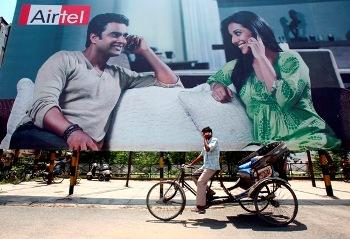 In the largest ever telecom takeover by an Indian firm, Bharti Airtel on Tuesday completed a deal to buy Kuwait-based Zain Telecom's African business for $10.7 billion (about Rs 48,000 crore).
Announcing the closure of the deal, Sunil Mittal said, "We are delighted at the closure of this transformational deal for India and Bharti Airtel. The transaction is the largest ever cross-border deal in an emerging market and will result in combined revenues of about $13 billion."
On March 30, 2010, Bharti had entered the deal to acquire Zain Telecom's operations in 15 nations, excluding Sudan and Morocco. Zain has operations in 17 African countries.
The closure of the deal implies that Bharti has received all the approvals from the governments and regulators of each of these 15 nations.
This acquisition, besides giving Bharti its much-desired presence in Africa, makes it the world's fifth largest wireless company with operations across 18 countries and a subscriber base of around 179 million.
Bharti had failed twice in the last two year's to forge an $23 billion merger deal with South African telecom giant MTN.
The Zain acquisition, the second largest by an Indian entity after Tatas' Corus deal, would take the revenue of the combined entity to an estimated $13 billion.
The African business would widen Bharti's reach, which was hitherto restricted to Asia and the Indian Ocean region with businesses in Sri Lanka, Bangladesh and Seychelles.
Of the $10.7 billion enterprise value of Zain, Bharti will be paying $8.3 billion upfront and $700 million after a year.
It would also take over approximately $1.7 billion of Zain's debts as on December 31, 2009.
Of the $8.3 billion paid to Zain, Bharti has raised debt from a consortium of foreign banks and State Bank of India with the lead-arranger and lead-advisor Standard Chartered Bank committing the highest amount -- $1.3 billion, followed by Barclays at $900 million.
The rest of the co-advisors -- ANZ, BNP, Bank of America-Merrill Lynch, Credit Agricole CIB, DBS, HSBC, Bank of Tokyo-Mitsubishi UFJ and Sumitomo Mitsui Banking Corporation -- have allocated $600 million each.
State Bank of India has agreed to an up to $1 billion loan in rupee terms.