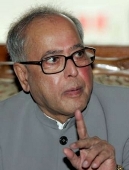 Informing that the economy is going in the right direction, Pranab Mukherjee, union finance minister, today stated that the economy would meet the target of 8.5 per cent gross domestic product in the current financial year if the monsoon is favourable.
"The economy is in right direction and with favourable monsoon, GDP target of 8.5 per cent will be met," he told media after meeting with the Gujarat Chief Minister Narendra Modi and state government officials in Ahmedabad.
Asked if he was scheduled to meet any officials of Dow Chemicals, he denied by saying that he had no meeting listed with officials of Dow Chemicals, which acquired Union Carbide, the company responsible for Bhopal gas tragedy.
He further said that advanced tax collection and industrial production at 17.6 per cent in the month of March are very positive and encouraging.
On goods and service tax, he said that he had meeting with the state chief minister, finance minister and other officials to discuss the concerns of the state.
"Direct taxes have become a major resource provider to the Central government, nearly trebling from Rs.1,32,771 crore (Rs 1,327.71 billion) in financial year 2004-05 to about Rs 3,78,000 crore (Rs 3,780 billion) in financial year 2009-10 at an average annual rate of 24 percent, and increasing its share from 4.1 per cent to 6.1 per cent of the GDP," he said.
"Apart from the constitutional amendment, there are issues and concerns of the states and others that need to be discussed," he said, adding that he has received some memorandums regarding the issues on the goods and services tax.
"I have developed the habit of meeting the chief minister and finance minister in the state I am visiting. Recently, I was on visit to Bihar where also I met the CM and others to discuss the GST and other issues," he said.
So far as fiscal defecit is concerned one need not come to the conclusion that as I have got some additional funds through the 3G and BWA auctions.
But, it was 5.5 per cent. I am provided with some elbow room but let us see that how things move, Mukherjee said in a reply to question that has the fiscal defecit come down because of third generation and BWA auctions.
The government has set up two Income Tax Overseas Units within Indian Missions in Singapore and Mauritius, he said, adding eight more such units have been approved in USA, UK, Netherlands, Japan, Cyprus, Germany, France and United Arab Emirates.
These ITOUs will facilitate seamless flow of tax related information from foreign tax jurisdictions and strengthen our fight against menace of tax evasion using cross border transactions.
Image: Pranab Mukherjee