Finance Minister Pranab Mukherjee while reiterating on Monday that India's economy will grow at 8.5 per cent in fiscal year 2010-11, said, his target is to break the barrier of double digit growth in 2011-2012.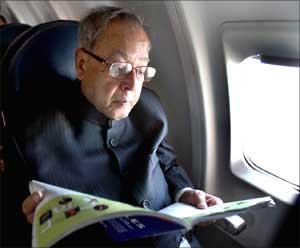 Mukherjee is in Washington, DC to co-chair the US-India CEO's Forum with (US) Treasury Secretary Timothy Geithner.
In his remarks at the Institute of International Finance, the FM while talking about India's GDP joked, "Here I must say, usually I do not always agree with the assessment of the International Monetary Fund, but in this case I would like to agree with the IMF because they it said it may be around 8.8 per cent."
He acknowledged that "one of the reasons of course, (was) that I did not depend - I recognised that external support will take time - because somehow or the other, our exports are destined towards developed countries."
"Nearly two-thirds of our exports are destined toward North America, Europe and Japan," he said, and conceded that "unless there is any robust recovery in these economies, it would not be possible for us to get the required external support."
Mukherjee said this was why he had to concentrate on generating domestic demand and for that "I must thank the leaders of the G-20 who assembled first in the Washington Summit, followed by the London summit, thereafter the Pittsburgh Summit," adding that these leaders recognised the need to take collective and corrective action."
He said the substantive quantum of resources injected in the financial system in the form of Stimulus Package, which is still being debated now with regard to the appropriate time for the exit policy, nonetheless had done a good job and as a result the recovery had started.
In India's case, Mukherjee said, "I also had to pay a price for preventing further deceleration in growth and I had to inject about 3 per cent of our GDP in the form of stimulus, and though in this budget, I have partly rolled it back, I could not come to full exit policy."
"As a consequence," he said, "the Indian economy is on the higher path of growth trajectory and I am expecting 8.5 per cent GDP growth in 2010-2011, but in 2011-2012, I do hope it would be possible for us to reach 9 per cent, but my target is to break the barrier of double digit growth."
Mukherjee said, "There is a big difference between 9 percent and 10 percent and that barrier I am trying to break and I am working on that."
But in taking this route, the finance minister said, "I had to pay a price, and this is one area where I do feel - and even in the last meeting of the G-20 finance ministers where we made recommendations for the Leaders Summit in Toronto - the issue was discussed that at what point of time should we have the exit policy - total exit."
Mukherjee said his prescription at this meeting had been that all countries should not take the fiscal consolidation professed at one particular time but that "it should be staggered."
"Where the market demands that fiscal consolidation is required immediately it should start, and where it can wait a little bit, the countries should adjust it policies."
Talking on India's policies, Mukherjee said, "I had to start it because my fiscal deficit had reached around 3 per cent in 2007-2008….naturally I had to pay the price in the form of higher deficit."
He said that in this regard he had readied "a road-map to come back to the path of fiscal consolidation by reducing the fiscal deficit from 6.8 per cent in the 2008-2009 to 5.5 per cent in 2009-2010 and 5 per cent in 2010-2011."
Mukherjee said the second problem that had afflicted the economies of many other countries too was inflation. "My rate of inflation has gone up in the year-to-year basis from 2009 to 2010," and that the Wholesale Price Index in 2010 had "reached almost double digits - 9.9 per cent - compared to 2.1 per cent in the previous year."
"As a result the annualised WPI is around 6 per cent plus, which was much less in the previous year - 3.6 per cent."
Mukherjee was given a rousing introduction by Ambassador Meera Shankar who said that "for nearly two-thirds of the history of independent India, Finance Minister Mukherjee has had a key role in our policy and in our government.
"In a distinguished career, spanning four decades, he has held a truly wide range of portfolios and virtually every important economic portfolio in the government of India," she said.
Shankar said that the choices Mukherjee makes in the management of the Indian economy and try to reach double digits in the next couple of years, "will have a profound impact not only on the destiny of India, but also on the fortunes of a still uncertain global economy."
Commenting on Shankar's introduction which stated his relatively long history in politics, Mukherjee said, "Sometimes I wonder that perhaps I have become a little bit of an antique piece in the Indian administration."
Charles Dallara, managing director of Institute of International Finance, at the outset announced that the IIF will hold its first-ever global membership meeting in India in March 2011 in New Delhi.
He said this would "be a major international meeting of leaders of finance from both the public and private sectors."
Dallara in his opening remarks at the meeting which included several senior executives from global financial services firms, said, "Today, we see an Indian economy that has played a remarkably stabilising force, not only for the Indian people over the last two-and-a-half years of this global economic crisis, but a stabilising force for the world economy."
"Few economies in the world - especially few large economies in the world - have been able to find a good balance between the foreign sources of growth and the domestic sources of growth."
Dallara declared, "India, however, has shown a way that has found a remarkably impressive balance between foreign demand and domestic demand, and in a period in which we are all renewing our concerns about the need for balanced and sustainable growth."
Thus, "we have a lot that can be learned from the Indian example," he added.
Photograph: Jay Mandal on assignment