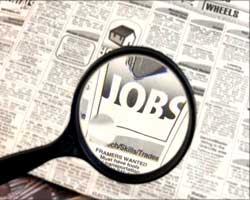 In a clear indication of the revival of the economy, the government has revealed that 638,000 jobs were created in the October-December quarter last year.
During this period, employment increased in almost all sectors except transport, which saw a marginal decline, according to the Labour Bureau, under the labour and employment ministry.
It said 91 per cent of the jobs created were in export units, which bore the brunt of the economic crisis, thus signalling an imminent turnaround.
"Out of the total increase of 638,000 jobs during the period, 580,000 jobs were added in the export units. The IT/BPO units alone added 487,000 jobs within the export units," a senior official in the ministry said.
The bureau arrived at the figures after conducting a survey covering 2,953 units of eight selected sectors across 11 states and union territories.
The survey was the fifth in the series, the first one being in the October-December quarter in 2008, immediately after the onset of the global economic slowdown to assess its impact on the job market.
The previous survey conducted between July and September, 2009, showed 497,000 new jobs were created.