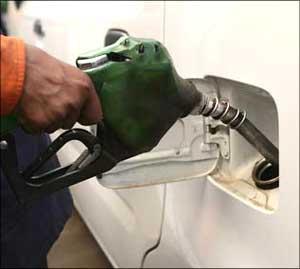 Acknowledging that the Union government had its own pressures in increasing petrol and diesel prices, Tamil Nadu Chief Minister M Karunanidhi, whose party DMK is a key UPA ally, said on Wednesday that it would persuade the Centre to roll back the prices.
"We will debate the issue with the government and persuade them to reduce the price. We hope that at least the price of diesel, used by farmers will be reduced,"  Karunanidhi said.
Asked if his party would "fight" against fuel price hike as other opposition parties were doing, he said the Government had its own pressures when it decided to raise the prices.
"From the days of Anna (former Chief Minister Annadurai), we have not believed in opposing and fighting for the sake of fighting," the DMK patriarch said.
Karunanidhi had last week written to UPA Chairperson Sonia Gandhi, Prime Minister Manmohan Singh and Finance Minister Pranab Mukherjee, saying the hike would have a cascading effect, further pushing up prices of essential  commodities.
He had sought the rollback of at least diesel price hike.
Notwithstanding its demand for rolling back fuel price hike, DMK has ruled out pulling out of the UPA alliance, with Karunanidhi's daughter and Rajya Sabha MP, Kanimozhi saying, "There is no question of DMK withdrawing its support (to UPA) or the alliance breaking up."
Apart from DMK, another UPA constituent Trinamool
Congress, has also come out strongly against the hike and demanded that it be rolled back.