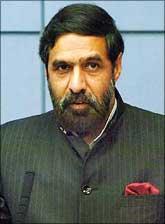 Commerce and Industry Minister Anand Sharma today assured exporters of government mediation to ensure that they get foreign currency loans at the new lower rate set by the RBI amid complaints against banks levying additional charges.
"Banks will have to give it (foreign currency credit at Libor plus 200 basis points)," Sharma told reporters at the sidelines of Hero Mindmine Summit 2010 here.
"We have an inter-ministerial committee on the dollar credit and it will intervene," he added.
The committee is chaired by Commerce Secretary Rahul Khullar has Finance Secretary Ashok Chawla and India Banks' Association Chairman M V Nair as members.
The Reserve Bank had last month slashed the maximum interest rate that banks can charge on foreign currency loans extended to exporters to 200 basis points above the global benchmark Libor from Libor plus 350 bps.
Exporters, however, are complaining that banks are levying additional charges over the RBI fixed rates.
According to the Federation of Indian Export Organisations (FIEO) banks are adding other costs such as Rs 0.25 per dollar on foreign currency credit, whereas the RBI clearly specifies that banks will not levy any other charges.
Meanwhile, President of Federation of Indian Export Organisations A Sakthivel has met Banking Secretary R Gopalan and discussed the problems exporters are facing in getting credit from banks.
Sakthivel said Gopalan has informed him that a meeting of some of the lead banks would be convened in the coming days.