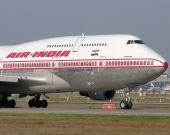 Loss-making National Aviation Company Limited (Nacil), which runs national carrier Air India, may opt for an Initial Public Offering (IPO) to finance its modernisation and recovery plans. The airline requires over Rs 24,000 crore to fund its fleet acquisition programme of 60 aircraft.
As a pre-requisite, the airline has taken the first step by appointing four independent directors to the state-owned company's expanded 13-member board. Stock exchange listing requirements mandate that one-third of a company's board must consist of independent directors.
"Like the other Indian carriers, we should also be listed; it will make our functioning transparent and make us more accountable and, of course, get money. As it is, we are under close scrutiny by everyone," said a top source in the airline requesting anonymity.
He declined to specify the size of the IPO.
Securities and Exchange Board of India rules specify that a company has to offer a minimum 10 per cent of its equity in an IPO, though it has waived the requirement for a three-year profit track record for listing.
The airline, which had accumulated losses of Rs 7,200 crore till 2008-09, would not have qualified for an IPO under older rules.
The government is also actively considering waiving its current policy under which only public sector undertakings with a track record of profits can be put up for divestment. 
Bankers said Air India's IPO could garner investor interest depending on the price, because it is a government-backed company and has large assets (real estate like the Air India building in Nariman Point) which can be leveraged. 
Air India is expected to see losses go up by another Rs 5,000 crore in 2010-11. It has been partly bailed out by the government, which put in Rs 800 crore of equity in this financial year and plans to put in another Rs 1,200 crore in the next one.
However, it has also made it clear to the airline that it has to meet cost-cutting targets, on which it has faltered -- it saved only Rs 800 crore this financial year against a targeted Rs 2,000 crore.
To partly fund its aircraft acquisition Air India and Air India Express, the low-cost subsidiary, are also planning to issue Rs 795 crore worth of non-convertible 10-year bonds. Nacil will sell bonds worth Rs 700 crore and its subsidiary will sell securities worth Rs 95 crore.
The IPO plan comes after the government had considered various ways to raise funds, including getting Indian institutions and banks to pick up stakes in the airline or offering shareholding to strategic investors.