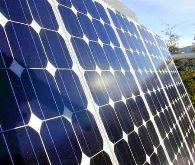 The Videocon Group on Friday announced its foray into the solar energy sector through an equal joint venture with the Belgium-based global renewable energy developer Enfinity and has set an aggressive target of generating 2,000 mw in a couple of years.
"The 50:50 joint venture between the Videocon Group and the Belgium-based Enfinity will develop large scale projects in the country. Our target is to create 2,000mw solar energy capacity within a couple of years," Videocon director Saurabh P Dhoot told PTI.
Dhoot said the joint venture is planning to de-centralise the power generation programme, which means that it would be setting up facilities in several places with different capacities.
The JV partners have held talks with several states such as Rajasthan, West Bengal, Gujarat, Maharashtra, Tamil Nadu and Andhra Pradesh, to explore possibilities of setting up plants.
In the first year, the JV has set a target of generating 100mw, Dhoot said, adding the 2,000mw capacity would be achieved in phases. He, however, declined to divulge investment details.
It is estimated that for creating 2,000mw solar energy, total investment needed would be around Rs 50,000 crore (Rs 500 billion).
The estimated cost of setting up the infrastructure to produce 1mw of solar power is around Rs 25 crore (Rs 250 million).
Enfinity Group chief executive Hans de Bacuer said the JV would raise 70-75 per cent of its total investment requirement through debt.
"We will raise 70-75 per cent of our total investment through debt. Banks are interested in long-term financing as the infrastructure we create will generate uninterrupted energy for the next 30 years," he said.
The government has initiated a solar mission which aims to generate 20,000mw from solar sources by 2020.
"Here we are de-centralising the power generation process. We will set up small roof-top solar plants and big plants that can supply power to an entire village to bigger projects. This will create a lot of jobs as well," he said.
In the long-term, the cost of solar power would be lesser in comparison to other sources of power, Enfinity Asia Pacific chief executive Gino Van Neer said.
"In the last year itself, the cost has substantially came down by 35 per cent globally. But if we take other modes of power generation, such as thermal, costs are increasing. Hence, in the near future, solar power rates will either be at par with the rates of other sources of power or lesser than that," he added.
The joint venture is planning to buy solar panels and other necessary equipment from Indian manufacturers, he said.