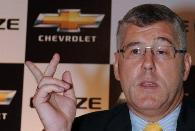 The first name suggests Germanic origins but no, research shows he's British. "Or 'Britisher' as Indians like to say. I was born in Derby in the West Midlands. That's Derby with an 'e', not 'a'," Karl Slym helpfully explains as we settle down to lunch at Konomi, the Trident, Gurgaon's Japanese restaurant.
From which I deduce he must be a fan of Derby County football club. He is! So the talk inevitably turns to football and a gloomy assessment of Liverpool (my club), which is having a torrid season, writes Kanika Datta.
The president and managing director of General Motors India is a considerate guest, leaving the choice of restaurant to me. Choosing Konomi wasn't tough given its reputation and I figured Slym's first job in Toyota would have familiarised him with the cuisine.
Luckily, he loves Japanese cuisine, is not a frugal eater and is familiar with the menu. We rapidly agree to share a sushi platter labelled the "Konomi Selection" and a Teppanyaki tenderloin each. Wine to go with the meal, I suggest hopefully, but it's a working day, he says, and settles for a Diet Coke so I virtuously stick to water.
Meanwhile, I place a Walkman-sized tape recorder on the table. It's standard  BS issue. "Pretend it's not there," I tell him airily, but he can't. "Gosh, that's the size of a car," he teases, "I bet my grandfather had one of those." I cling to my dignity and assure him that like an old Ambassador, it's 100 per cent reliable unlike those sleek but temperamental high-tech gadgets.  "I can assure you that our cars are equally reliable — that's the Chevrolet promise," he laughs patting a badge of the famous marque pinned to his lapel.
Slym has just completed two years in India - or "three Diwalis" as he counts it - having taken charge in October 2007. It's been a challenging time, not least because of the high-profile Chapter 11 filing of the Indian company's US parent.
GM, of course, emerged from the bankruptcy in a record 45 days - "it's a reborn company". Slym himself has earned industry praise for the way he handled the crisis, with an energetic campaign reassuring dealers and customers that the India business would not be impacted by the Detroit crisis. Thanks to his management, the India operations rode the contrarian demand boom with a flurry of launches - the Chevrolet Cruze being the latest - plus a brand new plant in Talegaon, Maharashtra.
And 47-year-old Slym has emerged with his sense of humour intact, at any rate, though he wears his achievements lightly. He thinks Chevrolet, the GM brand that replaced Opel in India, is now at a "tipping point". "We now have a capacity of 225,000 cars and we've put a lot of effort into our network, quelled concerns over ownership and so on. Chevrolet was a very small challenging brand, but over the last year or so, we've become well known."
India was a challenge from a personal point of view as well. "This is the seventh country in which my wife Sally and I have lived. I found when you arrive in a country it would normally take a week or two to acclimatise. It took longer in India - there were more things to get used to."
Not that India was Slym's first emerging market - he'd set up the business for GM in Poland in 1986 and in Germany he lived in the eastern part.
And yes, he learnt to speak German. "I remember the head of operations there saying the meetings would be held in English for the first two weeks and thereafter in German," which forced him to learn. "Englishmen are very lazy about languages. Our best foreign language is English. We think if we speak slowly and loudly, "H-e-l-l-o, I'm K-a-r-l," he intones deliberately, "everything will be understood."
Which brings me back to the question of his given name. As he explains, his older brother - whom he tragically lost last year - was Kevin and he was supposed to be a sister, Karen. Once he came along, a different gender, he was christened Karl to maintain the integrity of the K series. As his mother pointed out when GM poached him from Toyota for its German operations, she just knew he was going there.
Since we've discovered a mutual football fanaticism, the talk inevitably turns to sports.  Unlike me, he's not an armchair sportsman. Football is his "true love", and he used to keep goal for "a real team, not one in my backyard, but not a professional one".
He also played cricket in school and rugby ("I'm built for it") but it was at rowing that he "became most reasonable".  "It was a good sport, but hard. If I sat in a boat now I'd probably last about three minutes before I expired," he laughs. I tell him that Kolkata used to have a reasonably robust rowing tradition. 
"I find Kolkata the most British city in India," he responds, but it's the city trams he photographs the most. This was not, as I thought, an amiable British eccentricity on his part; his father-in-law has a special interest in trams. Not only does he oversee the tramway museum in England, he's writing a book on them. "It's not just on trams - he's worried that the technology of trams will disappear so he's writing all about the open-air wiring," Slym says, which is why his photos of trams absolutely have to include the overhead wiring.
The platter arrives accompanied by the chef to grate in fresh green ginger. The sushi more than lives up to its impeccable reputation, and there's appreciative silence as we tuck in. 
This lunch has taken almost a month to materialise because Slym was either in Detroit, Europe or elsewhere in India. Despite this peripatetic official schedule, he and his wife travel as much as they can. Kerala is one of their favourites, and they recently attended a wedding there, for which they stayed at a home on a rubber plantation.
His wife is also a collector of saris - she already has 26. "I think it's the most elegant piece of clothing a woman can wear," he says.  But it's cars rather than ethnic clothes that have been part of their lives. At 19, Slym crashed his car. "It was a write-off, so I went to the insurance office. The lady who was going to sort it out was someone I thought was very nice-looking. Eventually, after a long while of working on my insurance claim, we ended up going out together and getting married."
In September, Slym and his wife celebrated their 25th wedding anniversary at the idyllic island of Lombok near Bali, Indonesia. Slym is also a scuba diver and he placed a giant concrete heart commemorating the event in a reclaimed coral reef. 
The sushi platter is removed - only a lobster with eyes staring balefully at us remains on it - and replaced with the Teppanyaki and sticky rice. The lamb is delicately flavoured and melts in the mouth, though the rice reminds me of an Indianised version of Chinese fried rice. Slym wields the chopsticks with skill, I need a fork. 
The conversation returns to the Indian car market. Considering GM was one of the first foreign car companies to enter India after 1991, doesn't it worry him that it's only the fourth-largest car maker? "Fifth largest," he corrects me, holding up five fingers and checking off Maruti, Tata Motors, Mahindra & Mahindra and Hyundai.  
His explanation is that the Chevrolet brand's actually been here five years - the Opel brand that preceded it didn't gel with the market. "The other four have a different history. Every Indian wakes up in the morning and says I'm going to buy a Maruti. Our task is to say I'm going to look at a Maruti and I'm going to look at a Chevrolet."
He's tried to do that, for instance, by introducing a three-year maintenance and service contract for the small car Spark - "an industry first, by the way". 
But Chevrolet is actually older than any of the four brands. "I met someone who sold the first Chevrolet in India in Mumbai nearly 80 years ago for $2,500. I remember telling him you were so far ahead of the Nano - selling your first Rs 1 lakh car!"
Our plates are cleared and Slym calls out "Thank You" to the chef in Japanese. When he doesn't react, we hastily check - he's not Japanese but Filipino. For dessert, Slym selects a kulfi platter, a selection of four flavours, and says I must absolutely try the chocolate pudding - "it's the best".
I had been allocated one hour but our lunch has run to two. We round off with coffee for him and Jasmine tea for me before heading out. He suggests I buy the Spark to replace my ageing Santro. I joke that I might, providing it's the same bilious yellow as the art show invitation that's been handed to him by a hotel executive, since I'm heavily into bling right now. When the valet produces my embarrassingly battered car, Slym comes round to examine it. "Oh, it's blue," is his diplomatic comment before he is chauffeured away in a shiny white Cruze.