India is looking at investing about $20.8 billion in 276 projects which are part of the government's endeavour to expand 13 major ports in the country, Shipping Minister G K Vasan said on Tuesday.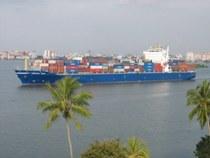 Addressing an 'Indian Port and Maritime' seminar, Vasan said 22 projects are ready for bids as the country's pressing on increasing the port capacity, mostly through public and private sector participation.
Referring to specifically Singapore, he said: "I firmly believe that India and Singapore have tremendous scope for partnership in this sector, including collaboration in areas like port development, cruise shipping, bunkering and ship building, ship repair and others."
"Private partnership is the key feature of the port development program and we are expecting good investments to come from private sector with a high proportion from overseas investors," he said, adding that India's port development program has already attracted interest from many overseas investors like Port of Singapore Authority and the Dubai Port World.
Currently 22 PPP projects are under bidding and scheduled to be awarded in the current financial year involving an investment of almost Rs 16,000 crore (Rs 160 billion), he said. He also pointed out that India has completed 24 PPP projects involving an investment of almost Rs 6500 crore (Rs 65 billion) while 19 PPP projects were under implementation, involving an investment of almost Rs 12,500 crore (Rs 125 billion).
Vasan backed his claim, saying Indian port handling tonnage has crossed 10 million GT mark last month compared to 6.94 million GT in April 2004. "Imports of coal and oil will be one of the key drivers of development in port and shipping sector.
This will provide immense opportunities for construction of new terminals, captive jetties and for acquisition of tankers, Liquefied Natural Gas and bulk carriers," he said.
The minister also disclosed that mega Container Terminals have been planned in Vallarpadam, Chennai, JNPT and Ennore, implementation of which would provide opportunities in the logistics business.
He also highlighted the extensive dredging sector business, along with port development, including 200 smaller ports which are being developed by the state governments through private investments as part of the country's tonnage handling capacity.
Vasan has set a target for the Indian shipbuilding industry to account for 5 per cent of the global ship building market share by 2017, up from the current 1 per cent.