Finance Minister Pranab Mukherjee's decision to co-contribute, for 3 years, Rs 1,000 per annum to each individual who opens an account under the New Pension Scheme is more than welcome, writes Sunil Jain.
With more than 90 million Indians already over the age of 60 and another 110 million likely to join this group by 2025, it is clear India has the beginning of an old-age crisis. Not in the sense the West has one, but in the sense that just a handful of these people can finance their retirement. Just the 24 million employed directly and indirectly (school teachers, for instance) by the government - of the total work force of around 450 million - will be able to finance their retirement as they get half their last salary as a lifelong pension.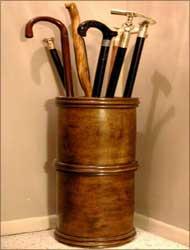 Even the 15 million members of the Employees Pension Fund don't fall in this category since, given the average retirement payout of Rs 26,000 by the EPF, it is clear these members can't get a monthly pension of even Rs 200 (a Rs 100,000 policy with LIC fetches an annuity of Rs 8,790 for 15 years).
This is why Finance Minister Pranab Mukherjee's decision to co-contribute, for 3 years, Rs 1,000 per annum to each individual who opens an account under the New Pension Scheme is more than welcome - enlightened state governments such as the one in Rajasthan began this some years ago, though the co-contribution there is for 30-40 years.
According to the Invest India Economic Foundation's all-India survey, there are around 30 million people who are interested in saving in the NPS as it stands (minimum contribution of Rs 6,000 per annum) and another 61 million are interested if they can save up to Rs 3,000 per annum.
Assuming the NPS is altered to allow them in, at an average saving of Rs 3,000 per year, the NPS will have a corpus of around $285 billion in 30 years, at a 3 per cent real rate of return. For the individual, such a saving, over 30 years, implies a sum which can give her a pension of Rs 1,045 per month for 15 years.
Assuming the individual is putting just 5 per cent of her salary in the NPS, this implies a pension that is 21 per cent of her current monthly income. It's still small, but it's better than nothing at the moment and the higher the co-contribution by either the Centre or the states, the higher this amount - a Rs 1,000 contribution each year (not just for the three years promised by the finance minister) by the government will, for instance, raise the monthly pension to Rs 1,394.
In which case, why is it that the NPS has just 3,000-odd members and what is the reason behind the government not being able to pass the Pension Fund Regulatory Development Authority Bill for the past five years? Most reformers, including the people in the Interim PFRDA, will tell you this is a big lacuna.
Since the PFRDA, it is argued, does not have statutory powers, it cannot take quick action against a pension fund manager who disappears with the funds - a case will have to be filed in a civil court and that can take a lifetime or two to get resolved. This is probably correct, though some argue this isn't quite true since the money remains in a trust fund and there are enough checks on the investment decisions taken. But even if you assume this is true, there is a lot to be said for the PFRDA remaining a wing of the finance ministry.
The reason is simple: Though it is mandatory that everyone joining government after January 2004 has to be a member of a government NPS (that is, their pensions will depend on what they contribute and are not based on their last salary), this has happened for just 700,000 persons across both the Central government and three to four states.
That is, most state governments haven't even started deducting the pension contribution - the rest, including the Centre, haven't created individual NPS accounts even today. Which means they can't decide which fund manager they want their money to be placed with or what kind of investments they want to make with their savings - this was, by the way, the very essence of the NPS.
A PFRDA, whose boss is of secretary or additional secretary rank, has a better chance of being able to get other government departments to start complying and to straighten out their accounts - it can be done with a regulator as well, but the chances of bureaucrats listening to the finance ministry are higher. So, a PFRDA Act may be a nice thing eventually, but it's not a burning concern right now.
What is worrying, of course, is how the PFRDA is staffed and how it functions. It has seven-eight executive staffers, including the chairman, and this ensures it has no one sitting with the state/Central government every day to get them to start complying. While the PFRDA view is that the finance ministry is stifling it, the finance ministry says the PFRDA has enough powers and, if it doesn't, it just needs to ask for more!
A very serious issue for the NPS to take off, however, relates to the structure of incentives for those selling the product. Right now, the Central Recordkeeping Agency gets the lion's share of the commission (Rs 440 per account in Year 1 and Rs 390 for each year, assuming one transaction a quarter), while distributors where subscribers open accounts (the SBIs and Kotaks of the world) get Rs 120 in Year 1 and Rs 80 thereafter; the fund managers get 0.009 per cent (that's Rs 9 on Rs 10 lakh of funds under management).
This is many times less than what they get on other products like life insurance and mutual funds. Since the Rs 1,000 for 3 years the finance minister has promised doesn't address the issue of greater incentives for the SBIs and the Kotaks, why will they sell these products? And since this Rs 3,000 is for future consumption, 30-40 years down the line, nobody is going to be beating a path through the jungle to get it. The government needs to work on this aspect as well if it wants the NPS to take off.
Postscript: This same problem of lack of attention to make-or-break details applies to the other plan of the Budget to increase banking to rural India through the use of banking correspondents.