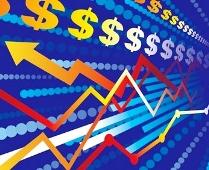 The Reserve Bank on Tuesday signalled the withdrawal of the easy monetary policy stance by raising the statutory liquidity ratio, the portion of funds that banks are required to park in government securities, by 100 basis points, said economists.
"Statutory liquidity ratio increase is just a beginning to withdraw liquidity out of the system. The RBI will tighten the monetary policy only when economy starts overheating.
"Currently, there is no need for that," former Prime Minister's Economic Advisory Council chairman Suresh Tendulkar said.
The RBI, which had been following soft monetary policy since September last year to inject liquidity into the system to help industry combat the impact of the global meltdown, on Tuesday reversed its stance by increasing the SLR by one per cent to 25 per cent, though it kept other rates unchanged.
According to Moody's economy.com, "The RBI has adopted a tightening bias, but highlighted that with stable inflation expectations and weak private sector lending, it was not prepared to begin reversing monetary easing at this juncture."
The RBI has also retained economic growth projection to six per cent during 2009-10, while pegging inflation at much higher rate of 6.5 per cent by this fiscal end from earlier five per cent.
ICRIER director Rajiv Kumar said that the RBI's growth projection below the PM's economic panel estimate of 6.25 per cent-6.75 per cent for the current fiscal is an indication that the RBI has conservative view of growth prospects.
"Going forward, the RBI will have to adjust between growth and inflation and it has indicated by retaining the growth projection and raising the inflation target," he said.
According to rating agency Crisil principal economist D K Joshi, "Increase in SLR will not have much impact. RBI's projection of growth and inflation is realistic."
Research firm Dun & Bradstreet said that by revising the inflation target to 6.5 per cent from 5 per cent, the RBI has clearly highlighted that inflation will be an area of concern going forward.
"Calibrating growth and inflation expectations will thus remain high on the RBI's agenda," it said.
D&B added that the RBI's move to hike the SLR to 25 per cent signals to tight monetary policy in the future.