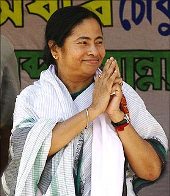 The railway ministry was thinking of hiving off suburban operations in Mumbai, Kolkata and Chennai into one administrative unit, said a senior ministry official.
"Suburban operations are highly subsidised. Though lakhs travel on the network, our earnings from these operations are significantly lower than that from non-suburban traffic," he said.
Data with the railway ministry substantiate this. Though passengers travelling on the suburban network account for 52 per cent of the total, they contribute just 7 per cent to the railways' passenger earnings.
The number of passengers in the suburban sector rose 1.48 per cent to 3,210.93 million between April 2009 and January 2010, from 3,164.05 million in the year-ago period.
However, earnings rose around 2.5 per cent to Rs 1,441.72 crore (Rs 14.41 billion) from Rs 1,406.73 crore (Rs 14.06 billion).
A smaller unit monitoring suburban traffic, industry experts said, would improve the efficiency of such operations. IIMS Rana, former chairman of the Railway Board, said, "The proposal, if implemented, will be positive, as the railways will be able to record earnings and losses from suburban operations separately.
"The creation of an independent unit will enable identification of strengths and weaknesses in the business segment and make way for remedial measures."
Akhileswar Sahay, president of the infrastructure advisory division at Feedback Ventures, said, "The time has come to put institutional structures in place to segregate suburban transport -- both in relation to accounting norms, as well as administration, either under the railway ministry or under the urban development ministry."
The move would not only mean better services in the suburban sector but also allow the ministry ramp up operations in the non-suburban sector, said experts.
One of the key challenges in the suburban sector is capacity creation, particularly in Mumbai, where the system is under tremendous pressure due to supply constraints.
Vishwas Udgirkar, an executive director at PricewaterHouseCoopers, said, "Huge investments are required to enhance the network at a rapid pace to meet the increase in demand. If a separate unit is created, it will become easier to get funds from multilateral agencies to upgrade the sector."
Image: Mamata Banerjee. | Photograph: Reuters
What do you expect from the forthcoming Budget for 2010-11? Tell us!