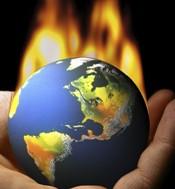 India and China on Wednesday formally backed the Climate Change Accord hammered out in Copenhagen last year calling for voluntary cut in greenhouse gas emissions.
Both the countries today submitted official letters to the UN Climate Change Secretariat saying that they agreed to being listed in the preamble of the Accord subject to certain conditions.
"It may be recalled that India actively participated in the discussions on the Copenhagen Accord. India stands by the contents of the Accord," Environment Minister Jairam Ramesh wrote to the UN Climate Chief Yvo de Boer.
"The Accord is only an input into the two-track negotiations. The Accord is not a new track of negotiations or a template for outcomes," he said. In a one-sentence note, China's chief climate negotiator, Su Wei said, "I am writing to confirm that the Secretariat can proceed to include China in the list of parties included in the chapeau of the Copenhagen Accord."
India has made it clear that the Accord is a political document and not a legally binding one.
"The Accord could have value if the areas of convergence reflected in it are used to help the parties reach agreed outcomes under the UN multilateral negotiations in the two tracks -- the Ad-hoc Working Group on Long Term Cooperative Action and the Ad-hoc Working Group on Kyoto Protocol," Ramesh wrote.
The agreement calls for limiting warming to two degree Celsius and commits rich countries to provide $100 billion long term finance to developing countries besides $30 billion to the poorest and most vulnerable countries in the next three years to fight climate change.
There is still no clear mechanism for the actual collection and disbursement of this aid but the next round of formal negotiations is scheduled for May in Bonn in Germany. The next UN climate change conference or 16th Conference of Parties (COP 16) is slated to be held in Mexico later this year.