Aavishkaar CEO Vineet Rai has been raising the 'social entrepreneurship' bar that will help create excellent, livelihood-generating rural enterprises, says Rajni Bakshi.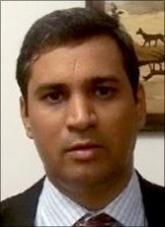 Vineet Rai enjoys putting a twist in the buzz about social entrepreneurship. Since his work is one of the reasons for the excitement about such businesses, Rai is now a frequent speaker at public events. "I can't wait for the 'social' to be dropped" is usually his opening line.
Rai's tightrope walk with India' first social venture capital fund, Aavishkaar, usually attracts cheer-leading from the proponents of 'inclusive growth'. But it simultaneously challenges the hollow claims about inclusion in business circles and the extreme skepticism of political activists that profit and social justice can ever be combined.
That's partly because Rai likes both the ends of the spectrum for different reasons -- but does not fully believe in either.
With a corpus of little over Rs 165 crore (Rs 1.65 billion), Aavishkaar's portfolio is a tiny drop in India's economy. So why is Rai's restlessness with the label of 'social' important? Because it helps to highlight challenges that urgently need to be addressed.
There is no shortage of, what one insider calls, 'faux-philosophers' who tell policymakers and general public alike that social equity can be got by seeking profit in more innovative enterprises, particularly those which tap the 'bottom of the pyramid'. Such trickle down oriented wealth-generation, this view holds, will eventually -- some day -- make all Indians prosperous.
But when Rai says that 'shareholders can take that profit which is left after stakeholders needs have been met' he is raising the bar much higher than most conventional business persons may be ready to jump.
Rai, now 38, entered working life just as the liberalisation process was getting underway. Born into a middle class family in Uttar Pradesh, Rai graduated from the Indian Institute of Forest Management and was recruited on campus by Ballarpur Paper Mills.
Being posted at a remote village of Orissa introduced Rai to the complex structure of poverty. Later, by what he calls a series of accidents, Rai became a research associate at IIM Ahmedabad and then CEO of GIAN (Gujarat Grassroots Innovations Augmentation Network), a company for promoting rural innovation, development and business.
He soon realized that the main barrier to decentralized, livelihood-generating rural enterprises is often not shortage of skills, imagination or initiative, but investors who are overly risk averse.
So with the support of a few business veterans and an initial investment of Rs 50 lakh (Rs 5 million) Rai cobbled together Aavishkaar.
Over the last ten years Aavishkaar has invested in companies such as -- Servals Automation, which is producing energy solutions for the poor; Vaatsalya, creating rural hospitals for low income groups; Vortex Engineering, which designs and manufactures low-cost ATMs for use in remote regions; Rangsutra Crafts, a company of a thousand textile artisans from the remote regions of India; Saraplast, which provides mobile toilets and aims to solve sanitation issues; et cetera.
Most of these ventures would not have appealed to conventional venture capitalists because the risks were not matched by sufficiently high potential returns. The success of many Aavishkaar ventures has not altered this reality.
So Rai's eagerness to drop the 'social' can sound premature. But it's a back-handed way of saying that more of the same will not, by itself, expand economic opportunity and social justice. That will only happen when positive social impact is naturally embedded in the overwhelming majority of businesses.
Vijay Mahajan, the pioneer of for-profit microfinance has been known to say that "while the 20th century taught us how to become billionaires, the 21st century is a time for us to address how to distribute this wealth." Or rather, as Rai puts it, the key challenge is how do you distribute wealth while creating it, rather than later.
One way to do this is through formations like Zameen Organic, a company owned by some 5,000 farmers, which marries some aspects of capitalism with those of the cooperative movement.
This fair-trade enterprise of pesticide-free cotton develops transparent trading relationships between ethical textile brands and small-scale cotton farmers in India. Aavishkaar is one of its investors.
Such community-owned companies are somewhat easier to foster at the start-up stage. What about the existing large corporate houses? For instance, would some of them offer a stake in the company, and thus a share of its future profits, to those people who have to be displaced in order to access land and minerals for industrial projects?
This proposition has been in circulation for a while but remains on the fringes.
Only when these realities change will it become unnecessary to have an additional or separate 'social enterprise' sector. It is significant, but not sufficient, that the goal is at all being visualized. The future depends on how the restless energy, of those who see these limitations, grows and keeps raising the bar.
Image: Vineet Rai, CEO, Aavishkaar.
Rajni Bakshi is a Mumbai-based freelance journalist and author of Bazaars, Conversations and Freedom: For A Market Culture Beyond Greed And Fear.