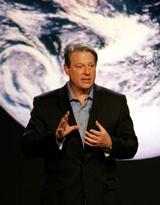 Former US Vice-President Al Gore committed a blunder at the Copenhagen climate change summit by claiming that the Arctic could be completely ice-free in five years.
Gore, who had become an unlikely green movement activist after narrating the Oscar-winning documentary 'An Inconvenient Truth', got entangled in a new climate change 'spin' row by misquoting an expert.
"These figures are fresh. Some of the models suggest to Dr Wieslav Maslowski that there is a 75 per cent chance that the entire north polar ice cap, during the summer months, could be completely ice-free within five to seven years," The Times quoted Gore, as saying.
But Maslowski says that this was never a figure they agreed to.
"I would never try to estimate likelihood at anything as exact as this," he said.
Right from its beginning, the Copenhagen summit is having a series of setbacks.
Key elements of the deal are unraveling and developing countries walked out last night in protest. These along with Al Gore's blunder have cast yet more shadows over the conference of Copenhagen.