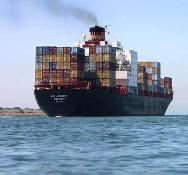 The country's exports took a beating for the 13th straight month, as it fell 11.4 per cent in October on little demand for Indian made leather, handicrafts and other products from recession-hit West.
Marked decline was recorded in export of items, including mica and coal during October, though improvement was witnessed in case of iron ore and oil meals.
The overseas shipments in the month was $12.5 billion against $14.1 billion in the same period last year.
The decline in exports during first seven months of the current fiscal (April-October 2009-10) worked out to be 26.5 per cent, making it difficult for the government to withdraw stimulus given to the exporters to combat the impact of the global financial meltdown.
Finance Minister Pranab Mukherjee, too, in his address to India Inc this week, said it would not be possible to withdraw stimulus till there was recovery in the developed world which accounts for bulk of India's exports.
Pitching for continuation of stimulus for exporters, Commerce Secretary Rahul Khullar said the exports on year-on-year basis are not likely to turn positive during the course of 2009-10.
However, on month-on-month basis exports are expected to turn positive in January, he said, adding, the exports in January were likely to be more than in December in value terms.