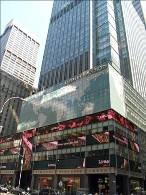 The ripple effects of the
fall
of Lehman Brothers in September last year is evident in the field of global mergers and acquisitions, which shrank by nearly 40 per cent in the 12-month period since then.
According to global deal tracking firm Dealogic, in the 12-month period from October 2008 global announced M&A stood at $2.17 trillion, down 39 per cent from $3.58 trillion in the previous 12-month period.
Global M&A activities, which reached its nadir on July 2008, witnessed a huge erosion both in terms of value as well a volume in the year 2009.
The global M&A for August 2009 ($119.8 billion) was the lowest monthly value since September 2003 ($117.5 billion), Dealogic added.
The report further stated that the deal size, too, has became significantly small in the last 12 months, thus highlighting the slowing market for large deals.
"Around 87 per cent of M&A deals since Lehman's collapse were below $100 million, this is up from 81 per cent in the 12 months prior," Dealogic said.
"Financial institution group (FIG) M&A deals valued over $1 billion accounted for 18 per cent of all deals in this value band in the 12 months prior to Lehman's collapse but jumped to 36 per cent of all the over billion dollar deals in twelve months following," it said.
The report said the fall of the former financial giant triggered the global financial turmoil, pursuant to which, there were a large number of government acquisitions of stakes in banks as well as mergers in the finance sector.
Besides, the number of distressed M&A transactions has also grown to record highs across all regions, the report added.