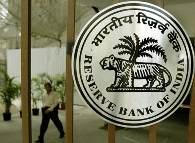 Amid expectations that the Reserve Bank may keep its monetary stance unchanged, the central bank will come out with its second quarter review of the credit policy for the current fiscal on October 27.
"D Subbarao, Governor, Reserve Bank of India will release the Second Quarter Review of the Annual Policy Statement 2009-10 on Tuesday, October 27, 2009," RBI said in a release.
Recently, Finance Minister Pranab Mukherjee had said in Kolkata that he will not prescribe tight monetary policy.
The Reserve Bank Governor had said RBI will not withdraw monetary stimulus unless sure of sustained economic recovery, even though inflationary pressures are there in the economy.
RBI started loosening money supply from October last year to mitigate the impact of the global financial crisis on the Indian economy, prompting banks to cut interest rates.
So far, the RBI has cut short-term lending rate (repo) by 4.25 per cent, short term borrowing rate (reverse repo) by 2.75 per cent and the cash reserve ratio, the amount which the banks have to keep with the central bank by 4 per cent.