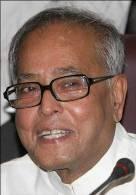 Finance Minister Pranab Mukherjee on Monday said the medium-term outlook for the economy is bright and presents an excellent opportunity to take the growth process forward.
"The medium-term outlook of the economy is bright. The current situation presents excellent opportunity for deepening and broadening the growth process. This involves both the government and private enterprises," Mukherjee said.
Referring to the country's economic recovery after hit by the global financial meltdown, he said, "thanks to all economic agents, we are reaping the fruits of meticulously planned economic recovery."
Economic growth slowed down to 6.7 per cent during 2008-09, after three years of over 9 per cent expansion. After the government provided stimulus to the economy, the growth recovered to 7.4 per cent last fiscal, despite a very bad drought in most parts of the country.
The Finance Minister explained that the government had to provide stimulus packages to pull the economy out of the impact of global financial meltdown, but later they had to be partially withdrawn since the fiscal deficit has to be brought down.
He said the government has accepted the fiscal deficit targets of the 13th Finance Commission which called for bringing it down to 3 per cent of GDP by 2013-14.
Originally, the government had planned to cut fiscal deficit to 3 per cent of GDP by 2008-09, but it instead soared to over 6 per cent after the government provided stimulus to the economy.