Stock markets and entrepreneurism are linked and private equity is about taking the start-up to the IPO stage, writes Mukul Pal.
I was at an entrepreneurship workshop conducted by Peter B Zaboji. Peter was a professor at Insead and a corporate restructuring expert. Peter's aim was to implant the entrepreneurship fire in his audience and assist entrepreneurs with a road map to tap private equity.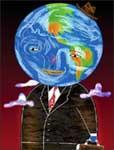 Peter came with an elite list of speakers, including Piroska Zoli (a silicon entrepreneur) and Imre Hild (a financial innovator from Hungary). I could relate to Imre's idea. He found an opportunity in selling LARE (Life Annuity for Real Estate) to a select Hungarian audience.
Imre saw a need for a financial instrument for war widows who had no one to hand over their real estate assets and, so, needed to commoditise these in their life. The widows would sell their land to the bank for a fixed annuity. This put Imre on the list of successful financial innovators in the region.
Apart from ability to eye an opportunity, bias for action and overcoming fear of failure, one of the ideas that Zoli clearly quantified as a means to create value was that of creative destruction.
He talked about small start-ups (economic value generators) destroying conventional market place, destroying inefficiency, causing innovation and, hence, creating value. Creating destruction is at the heart of human innovation. Creating a substitute destroys conventional demand for the product and recreates the market place.
So, the question to be asked is: What kind of markets do you want to destroy or disrupt today? The idea of creative destruction was introduced as early as 1913 by Werner Sombart. His formulation was influenced by Friedrich Nietzsche, who was influenced by the image of the Hindu god Shiva, who is presented in the paradoxical aspect of simultaneous destroyer and creator.
It may look strange but what are we speaking about here is a cycle of innovation. An entrepreneur eyes an opportunity and creates and markets a product. Demand creates a market place, the market place becomes bigger, competitors come, margins become thin, organisations become large and then lose their nimbleness.
This is when start-ups start chewing at large organisations' flanks. The cycle of entrepreneurship starts all over again. Creating a new market place is what entrepreneurship is about. And since we don't have access to alien spaces, new markets will always have to be created from the existing market.
Capitalism was always a zero-sum game. Stock markets and entrepreneurism are linked and private equity is about taking the start-up to the IPO stage. And now that behaviourologists have proved that humans have a distorted risk-return equation, should entrepreneurs not take note of when to and when not to take risk? After all, a great innovation can last a generation, but unfortunately an entrepreneur has just a life time.
The author is CMT and CEO, Orpheus CAPITALS, a global alternative research firm