The Ambani brothers may soon begin to renegotiate the gas supply agreement between them, but it may not result in much for Anil Ambani's Reliance Natural Resources Ltd. The government has already allotted up to 90 million standard cubic metres a day (mscmd) of gas from the D6 field in the Krishna-Godavari basin of Reliance Industries Ltd for a period of five years, which leaves hardly any gas for RNRL.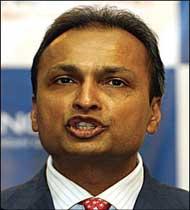 A senior government official said that allocation letters have been issued for 80 mscmd of gas. "RIL is currently producing about 62 mscmd of gas; so the commitment is more than the production," said the official. There is an unallocated quota of 10 mscmd gas which is meant for use by captive power plants if the production goes up. RIL's gas production is not expected to exceed 80 mscmd till eight years.
However, sources close to the developments said the government can always allocate gas once the agreement is renegotiated between RIL and RNRL. Also, the availability of gas is going to increase from RIL and GSPC. "Only 61.61 mscmd is being consumed as of now."
RNRL had sought 28 mscmd of gas for 17 years at $2.34 per million British thermal units (mBtu) from Mukesh Ambani's RIL. RIL had contested the claim and the matter reached the Supreme Court. On Friday, the Supreme Court stuck down the RNRL claim, saying that the government was the owner of natural gas under article 27.1 of the production-sharing contract with RIL.
While the court directed the two sides to renegotiate "suitable arrangements for supply of gas", the renegotiations have to be within the framework of governmental policy and approvals regarding the price, quantity and tenure for supply of gas. The government's press note of November 16, 2009 committed gas allocations of 61.61 mscmd on firm basis and another 30 on a fallback basis. Firm allocation entitles a company first right on the gas, while the fallback gives temporary supply in the event of spare quantities being available.
Though the press note says the requirement of natural gas for power plants completed beyond 2009-10 would be reviewed by an empowered group of ministers for allotments from the fallback quantity, Anil Ambani's Dadri power plant in Uttar Pradesh is nowhere near completion.
In the case of state-owned NTPC, the legal dispute with RIL relates to the supply of 12 mscmd of gas. If NTPC manages to get a favourable court verdict, RIL can terminate the contract with other companies to accommodate NTPC.