Financial services major Barclays is understood to have preferred Swiss banking entity UBS for acquisition, a week before it bought the US assets of Lehman Brothers, says a media report.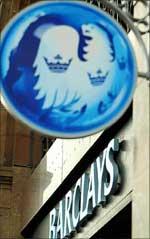 "UBS, one of the banks hit hardest by the financial crisis, was Barclays' preferred merger target only weeks before it acquired the US assets of a stricken Lehman Brothers," the Financial Times has reported.
Senior executives at Barclays' investment banking division presented UBS as a favoured option ahead of Lehman at a July 2008 board meeting, the report said citing current and former directors.
The mooted takeover reveals the scope of Barclays' appetite for risk in its drive to build one of the world's biggest investment banks amid the worst economic slump since the Depression, the daily said.
According to the publication, a tie up with UBS would have given BarCap a market-leading global equities business to complement its fixed-income, currencies and commodities operations.
At the time, Barclays had just failed to buy ABN Amro, the toxic debt-laden Dutch bank that has subsequently forced government rescues of two of its three acquirers, Royal Bank of Scotland and Fortis.
Barclays had acquired US operations of bankrupt entity Lehman Brothers for USD 1.75 billion in 2008.